In Memory
Frank Lambert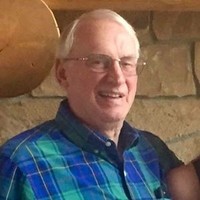 Frank Wesley Lambert passed away on January 30, 2018 at the age of 73 after a brief struggle with cancer. He was born on December 10, 1944 in Lincoln, Nebraska to Dwight Wesley Lambert and Helen May Cuddy Lambert. Frank graduated from North Kansas City High School in 1962. He then attended Kansas State University where he met the love of his life, Norma Kaye Guhn. Frank and Norma were married on August 5, 1967. They lived in Manhattan, Kansas for several years where they were joined by two children, Brenda Elaine in 1968 and Eric Wesley in 1974. Frank finished his education at K-State in December of 1978. He graduated with a B.S. in Business Administration. The family then moved to Overland Park, Kansas in early 1979 when Frank started working at Hallmark Cards. Frank worked at Hallmark for over 15 years, mostly in the International Division. He finished his career at Aquila/KCP&L and retired in 2012. He and Norma moved to Austin, Texas in 2015 to be closer to Frank's mom and their son Eric.
But such an extraordinary man cannot be summed up in a short paragraph with just the facts. There is so much more to Frank's life and all that he gave to everyone who was lucky enough to be a part of it. Duty and honor were the motto by which he lived his life. Family always came first, always. He loved fiercely and generously. He always had time for friends, children, grandchildren, nieces and nephews and hardly understood the meaning of the word no. He served on boards and committees, gave his time to charities and his church, and always had time to cheer loud and hard for his alma mater, K-State. He never failed to find room in his heart for new friends and adopted many of his children's friends as extra kids and added them to the list. Frank lived his life fully invested with all the good people who came his way.
Frank had many loves besides Norma and his family. He loved music. He had a beautiful voice. He sang in choirs, quartets, all kinds of groups, even at Brenda's wedding. (He actually met Norma singing in the church choir in Manhattan.) He loved listening to pop, jazz, classical, you name it. Lots of trips and time in Frank's life were centered around music. He loved cars, especially his Mustang. After Frank retired, he finally got a Mustang convertible that he would lovingly rub, polish, clean and accessorize. He joined the local Mustang club and entered his car in many shows and won several trophies. He loved to take Norma for rides on beautiful Texas days and feel the wind, (usually with a stop for ice cream factored in). Frank loved his poodles Ace and Mattie and his cat Finn. His granddogs Cosmo and Moby will miss the treats he always had waiting for them after their trips to the dog park with Eric and Norma. His animals became his kids and he loved them dearly. And then there was his love of K-State. Everything had Powercats on it, the front door was painted purple and most of the clothing he had was K-State gear or a purple hue. He was a loyal fan and an even greater academic supporter. He and Norma started a scholarship fund at K-State for their 50th anniversary last year. Frank even managed to forgive his daughter for going to KU, but that always made KU/K-State match ups louder and more exciting. One of the last things he was able to do was watch the KU/K-State basketball game with Eric, Brenda and his grandson Ian. Frank loved sports, especially Kansas City teams. Many favorite memories come from going to Royals games and cheering on the Chiefs. He spent hours playing catch in the backyard first with Brenda, then Eric and then later with the grandkids. He loved to go and watch his kids' and grandkids' games - basketball, baseball, soccer and he even managed to sit through the horse shows to watch his granddaughters ride. He loved it all.
Frank is survived by his wife of 50 years, Norma Lambert, his mother Helen Lambert of Burnet TX, his daughter Brenda Marshall and son-in-law Steve of Laramie WY, his son Eric Lambert of Austin, his grandchildren Ian Marshall of Seattle, WA, Duncan Marshall and his wife Brenna of Lawrence KS, Cameron Marshall, San Diego CA, Keely Marshall of Lawrence KS, and Ainsley Marshall of Laramie WY, a brother Dennis Lambert and his wife Leah of Columbus OH, a sister Barbara Lambert of Denver CO, his brother-in-law and sister-in-law Don and Edie Snethen of Topeka, KS, nephews Andrew Lambert, Matthew Lambert, Jonathan Lambert, Zachary Snethen and Jason Zetmeir, and nieces Gretchen Hammond and Jillian Robinson.
A memorial service for Frank will be held on February 18, 2018 at 1:00pm at St. Matthew's Episcopal Church in Austin, Texas. In lieu of flowers, the family encourages donations made in Frank's name to the St. Matthew's Episcopal Church. The family encourages anyone attending to wear your favorite color to the service. Frank's favorite color was purple if you feel like honoring him. Go Cats!
http://wcfish.tributes.com/obituary/show/Frank-Wesley-Lambert-105794282